Day one at London Fashion Week kicked off the Spring/Summer 2017 proceedings and for us it was markedly domineered by young, effervescent and refractory talent.
Youth subjugated with an overwhelming bid of fresh ideas that certainly got the show on the road. This was a youthful trip down memory lane that left us wanting more and set a prosperous pace for the rest of the week.
Ryan Lo
We've come to expect a certain level of sugar-coated romanticism from Ryan Lo with previous collections rooted in fantasy and a proclivity for childhood nostalgia.
Luckily, this season was no exception though despite the presence of his signature candy hues, Lo's girls were packing some serious punch. For SS17, we were transported to exotic lands for a Middle Eastern hotchpotch inspired by the anime cartoons and Cantonese music videos of Lo's youth.
The wonderfully girlish designs ran the stretch of pink and lilac ruffled and tiered dresses to oversized harem trousers borrowed from Venetian clowns. As the collection progresses so does Lo's intrepid traveller as she ditches prettiness in favour of vibrant prints; think magic genie lamps and a kawaii character that rides an elephant.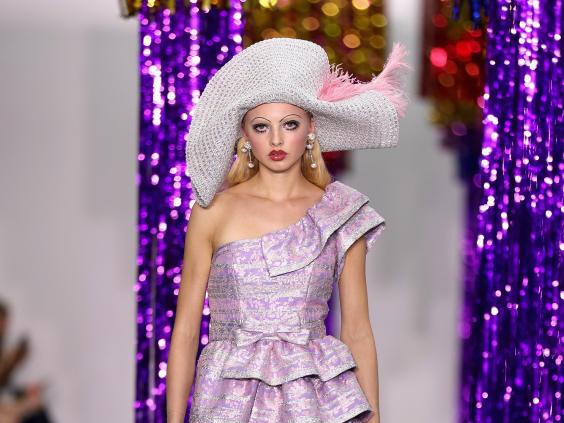 Lo's maximalist sensibilities were certainly on form and his love of all things dreamy persisted through to the finest of details; collaborating with British milliner Stephen Jones for the first time saw marabou trimmed tricorn hats send a bounty of pastel pirates down the runway.
While this collection fetched with it a love of all things feminine and fanciful it also carried a forceful blow; he's asserting himself as a serious contender that isn't afraid to break the rules and smother them in glitter.
Shrimps
Young London-based designer Hannah Weiland is well known for her beautifully crafted pieces but at the heart of the brand lies a fluffy rainbow vision of faux fur and a taste for fun. This season though, Shrimps' signature fuzz felt pared back; it came in a gamut of colours from forest green to pearly pink and found itself draped over shoulders or clasped in an oversized clutch bag but while wholly present made way for an emphasis on colour and texture.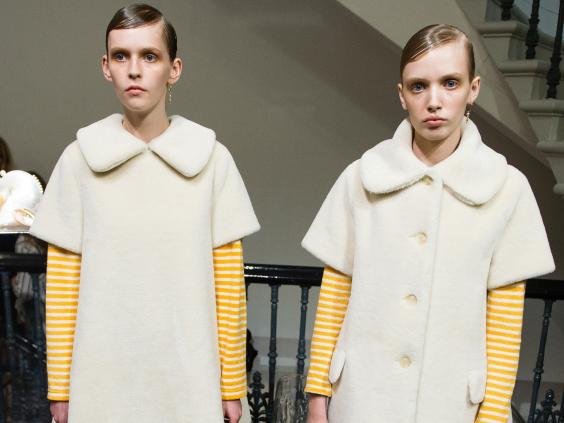 Stressing the influence of artists such as Edward Wadsworth and Paul Gaugin – both recognised for their experimental use of colour and jagged, almost psychedelic designs – it was evident that Weiland wanted to take things up a notch.
And that she did; printed marching girls bearing pitch forks adorned silky, pyjama-style pieces with Little House on the Prairie bonnets to boot while ballooning dresses and textured Converse assimilated a new level of playfulness.
Ashley Williams
From the out, Ashley's muse was clear as Jurassic Park's Journey To The Island sounded and an assemblage of teenage bedroom snippets lined the runway; this was our younger years, our adolescent hidey-holes come to sartorial life.
Citing River Phoenix as the posterboy/heart-throb/pin-up of her youth, Ashley looked to that unfathomable space between reality and fantasy that exists in the teenage imagination: 80s puffball dresses, dungarees, the most miniature of mini-skirts and graphic two-piece suits saw past pieces and prints reimagined albeit with a little bling.
Diamonds are a girl's best friend after all and this time they were pierced through ears with sexuality symbols, clipped to hair with BOYS and GIRLS script or buckled to a platform creeper.
It was an honest, real exploration of adolescence and all that comes with it; feeling like an oddball, dressing like one too and crossing any pre-set ideas of class, gender or sexuality.